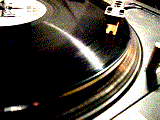 NEXT SHOW: Tuesday July 14th. New Orleans style music and other stuff. Will open with Jolie Fille and Sheik of Araby (sneak peak off Cincinnati Lagniappe's upcoming CD) and then some other tunes, maybe old stuff from 30's or 40's. Depending on my mood du jour. As always, 30 minutes of tunes, with little to no talking in between songs. Click on the link below for live show or archives of past shows you may have missed.
http://www.blogtalkradio.com/sophiasplace
Lagniappe's John Mooter in photo, courtesy of yours truly.